If every single parent could watch this movie, we would all be more informed about the public school system and how it is run.
IndoctriNation
is a documentary done by Colin Gunn, a Scotland-born homeschool father of seven. He travels across the USA on a school bus with his family on a quest to understand the origins and social impact of America's modern public education system. I am so glad that I had the opportunity to review this DVD for my own family.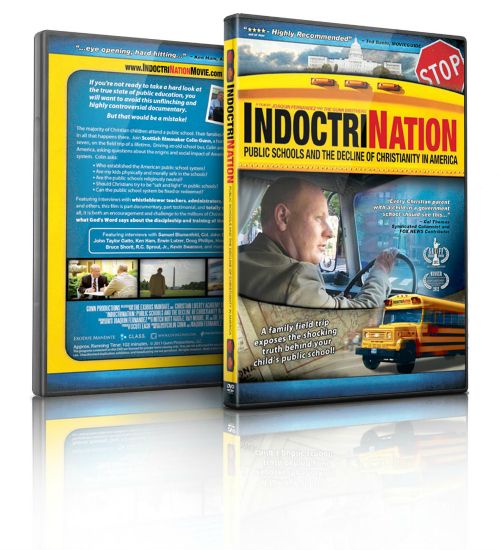 Great Commission Films
produced
IndoctriNation
to inform parents and citizens about what children are learning in the public school system and who is teaching them. My husband and I viewed
IndoctriNation
together to make sure we were on the same page. The results are in: yes, we are in total agreement that home education is the only choice for our family. This documentary answers the questions of:
whose doctrine is being taught, what are the moral threats, and should Christian children be in the public school system?
90% of Christians send their children to public school to be the "salt and light" for Jesus. But, in the documentary, Colin Gunn gets down to the heart of whether or not that is the biblical thing to do. Since the statistics tell us that 88% of young people leave the church and their faith after high school it doesn't look good for the PS system.
There are four huge threats in the PS's that every child is exposed to:
Sexual sin- almost 1/2 of grads have had sex and about 10% of students have been approached by a teacher for sex.
Abortion- they are taught that this is the only option for teen pregnancy.
Drugs/alcohol- almost 1/2 of students have had experience with drugs and/or alcohol.
Violence- the fights that occur in school are growing rapidly as well as the killing of students in mass shootings.
Most parents believe that their child's school is safe and good and never think twice about their decision to send them there each day. Though a child may be good at home and good at school, they are being exposed to bad behavior and bad behavior can rub off on them. In 1 Corinthians 15:33 it says "Do not be deceived: 'Evil company corrupts good habits.'" And, James 1:27 tells us to "keep oneself unspotted from the world."
Government run schools are forbidden by law to declare Jesus Christ as Lord. I would like to tell you a story about my high school earth science teacher. I remember that we were studying the different periods in history (Jurassic, Triassic, etc.). He kept pushing that the earth was so many millions of years old. When my group (we all were assigned to a table with other students) questioned this and told him the bible said different, he was livid. He actually yelled at us and stormed out of the room. We were not allowed to think any other way than what he told us.
The story continues because about 5 years after I graduated from high school I saw my earth science teacher...at a Michael W. Smith concert. Can you believe that? God changed his heart and turned him to the cross. How wonderful!
But, most of the time that is not the case. Even is a teacher is a Christian, he or she cannot talk about their faith at school. They must keep their love of Christ private. I find that extremely hard to do because Jesus is my soul reason for being on this earth. He is the love of my life and I can't imagine having to keep quiet about all He has done in my life.
If our intention is to honor God, sending them to public school should be the last thing we do. You have to answer this question when sending your kids to PS: Do you want your children to belong to you or to the state? Dr. Erwin Lutzer (a Pastor) says this: "Schools cannot do what the home must do."
Many early Americans were homeschooled and it wasn't considered alternative. Some of these homeschoolers were: Abraham Lincoln, George Washington, Booker T. Washington, Alexander Graham Bell, and David Crokett. Do you see a trend? They were all extremely smart and well versed. They all did something big with their lives and made a huge impact on our country for the better.
Ken Ham (a Creation Scientist and developer of the Creation Museum) says this: "If you don't start with scripture, you start with man's opinion." He also says, "You are either for Christ or against."
The PS system is not for Christ so they must be against. They don't even allow you to read the bible in PS. You cannot pray, you cannot wear clothing that declares you are a Christian, you cannot express yourself as a Christian. IndoctriNation really opened my eyes to what the teachers go through as well.
I want to say that there are teachers out there who are Christians. But, if you watch this documentary you will get a glimpse of what they go through. Colin Gunn interviews a few teachers and principals as well as PS historians. It gives you a real view of what they endure and what happens when they do talk about Jesus in the classroom.