Who doesn't love things that glow in the dark? My kids are certainly the first ones to admit that they love everything that glows. We keep a constant supply of glow sticks in our freezer. So, when I was chosen to review Egglo Entertainment products I was very excited because I knew my kids would be ecstatic. We were given physical products including Glow in the Dark Egglo Eggs, the Egg-cellent Easter Adventure Book, Egglo Treasures Scripture Scrolls, and Egglo Bible Verse Stickers. I was also given a download of The Egglo Glow in the Dark Egg Hunt Event Curriculum.
Each year I try very hard to give my children the real story of Easter. The story of Jesus and His love for us. I have tried other items before but Egglo Entertainment has come up with a one of a kind idea. The creators have put Jesus at the center of everything. They put God's Word in every activity. From the eggs (that each have a cross on them) to the scrolls (that each have a bible verse on them). This whole program will give your children a better idea of what the real story of Easter is about. The treasure of Easter is not candy and bunnies and chocolate eggs. The real treasure is putting Jesus first and knowing what He did on the cross for us on that very first Easter.
I began by downloading The Egglo Glow in the Dark Egg Hunt Event Curriculum. I read it through and got a lot of ideas about how to use each of the items that I was given. They recommend hosting an Egg Hunt event. Well, it's just my kids and I so we went with what we had. The curriculum includes suggested activities, devotions, printable coloring pages, a printable poster, and many more awesome resources.
The theme for this curriculum is "Jesus Is The Light Of The World". Hence, the Glow in the Dark Egglo Eggs. My children immediately grasped this concept because of the bright, neon-colored eggs. The curriculum really helped to guide me, as the teacher, in properly using each item.
Next, we read the Egg-cellent Easter Adventure Book as our read aloud. The story is so captivating for little ones. My boys are six and four (with a two year old in the mix) and they loved the story. They didn't want it to end. It begins with three children, Hardy, Anastasia, Pascal, and their dog, Zeke getting ready for Easter day. As their families prepare the meal and celebration activities they go on an adventure through the bible. They find a mysterious treasure chest in their attic containing a glowing Easter egg.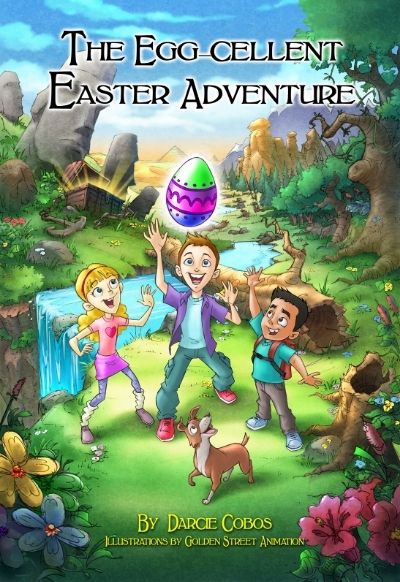 Being inquisitive, as most children are, they begin to unravel the mystery of the egg. It takes them on an adventure through history. Each new destination gives them a new egg that reveals a clue to their next stop and a bible verse to go along with it. With each new egg, the kids begin to see how God's word can guide them through any kind of trouble they may have. In the end, they discover that Jesus is the greatest gift of all.
After reading over the curriculum and the Egg-cellent Easter Adventure Book, was the Glow in the Dark Egglo Eggs. These were so much fun. The eggs are a bit thicker than your "normal" Easter egg and more sturdy. They come in four different neon colors (blue, green, yellow, and pink) and are pre-decorated with a cross on each one. We were given one box of eggs containing twelve eggs. The instructions are included in the box. Basically, you have to put the eggs under light to absorb the light for 30-60 minutes. The eggs glow at their best for one hour but can last up to two to three hours.
Our eggs lasted for about an hour and a half. They had found them all at that point anyway and the lights were turned back on. Inside of each egg I put one of the Egglo Treasures Scripture Scrolls. As they found each egg they would stop and have me read the bible verse inside. Then, we would discuss what each verse meant and how we could apply it to our lives.
After the Easter egg hunt we opened our Egglo Bible Verse Stickers. These were a huge hit. My kids LOVE stickers. The two older boys share a room and have bunk beds. The beds are wooden and they decorate the sides and ladder with stickers that they get from the doctor's office or dollar store. The Egglo stickers made it to their beds as well. They said they wanted to be reminded of their new bible verses even when they were playing and sleeping. It was so sweet.
So, there you have it. We had the most fun with this review item and we gained so many new bible verses. I highly recommend this whole program for anyone with children between the ages of 4 and 12 years old. It can also be utilized in an AWANA group or children's church program. It could also be used in a homeschool co-op group. It was a very sweet program and we enjoyed it very much.
Here are more resources to get more information about Egglo Entertainment:
Pinterest: http://www.pinterest.com/eggloeggs/egglo-easter-egg-hunts-about-jesus/
Facebook: https://www.facebook.com/EggloEggs
Twitter: https://twitter.com/EggloEggs
Instagram: http://instagram.com/eggloeggs
YouTube: https://www.youtube.com/user/EggloEggs
Tumblr: http://egglo.tumblr.com
The creators of this curriculum and program have put a great deal of time and heart into making these items. Please check them out for yourself and your family or church group.