My boys LOVE science. They love nature study the most. My home education method is considered the
Charlotte Mason
Method. It's all about learning about the world around you. I was very happy to receive a digital membership to
Visual Learning Systems
Digital Online Science: Elementary Edition (Grades K-5)
and
Secondary Edition (Grades 6-12)
for review. This program is such a blessing and wonderful addition to our homeschool day.



The program is exactly what the name says it is: visual learning through watching short videos about science and nature. Since my children are younger (only 6, 4, and 2) I chose to receive the "Elementary Edition". This edition also includes primary levels as well. The program includes a "teacher account" and a "student account".
The "student account" includes the video for each topic, animations, images, and the printables that go along with the video. In the elementary edition, the videos range from 10-20 minutes in length. This is perfect because littler children have a smaller attention span. My boys really enjoyed watching the videos and answering the quiz questions at the end. I will get more into detail about how we used it below.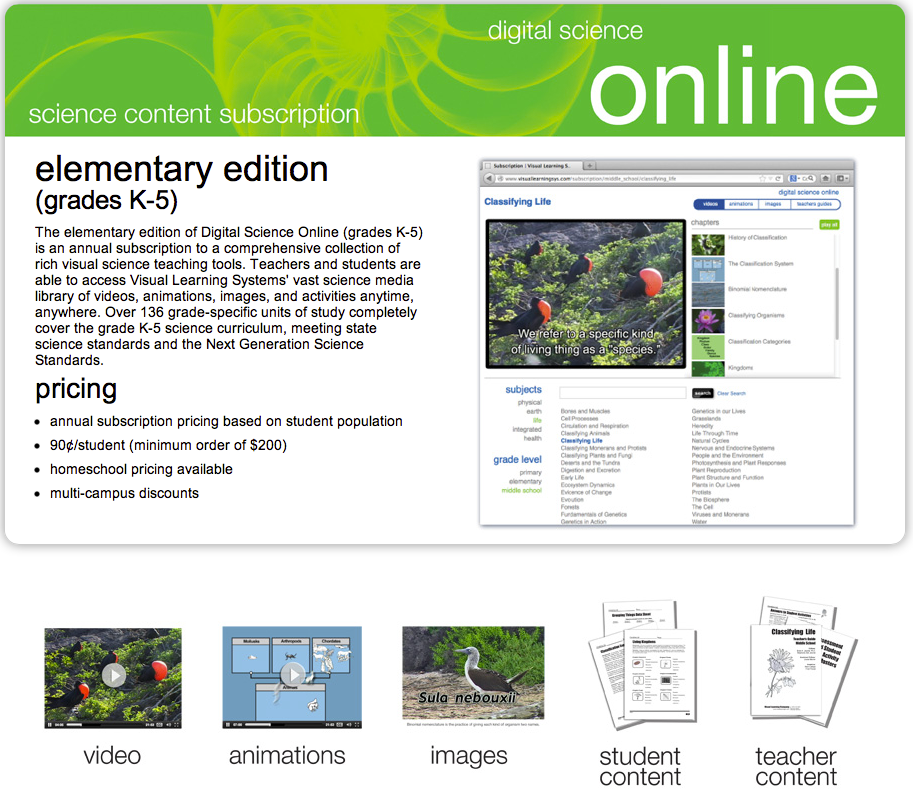 The "teacher account" allows the parent/teacher to access all of the same information as the students with the addition of the teachers guide section. This section includes: introducing the video (how to discuss the video the student is about to view), student activities (printables, worksheets, experiments,etc.), learning objectives (discussing the video after watching it), and the video script. There is also a downloadable guide for each topic. This section varies from video to video. I found it very helpful and thought-provoking.
How We Used Visual Learning Systems:
During the time before this review we had no official "science" program we were using. I had been unsuccessful in using a different program and was in need of a new one. My boys are very visual learners. They love electronics as well. When I saw this item come up for review I immediately jumped on board. I love that this program can be used on any device that has internet capability. We have a Kindle Fire and it worked great on it. I have also seen that others have used it well on an iPad....but I don't have one of those.
So, each day when it was science time I would get out the Kindle Fire and get the video ready for the boys. I would talk with them about what topic we had chosen to learn about that day. They would sit and watch the clip and answer the quiz questions at the end. I would sit nearby just in case they had any questions or I heard anything that didn't line up with our Christian views. The only thing I will say is that the videos do say "millions of years ago" a few times. We took this as an opportunity to discuss that we don't believe that way and that the bible says different. It actually turned in to a game where they would yell "but that's not what the bible says" every time they said "millions of years ago". It was quit funny.
After they viewed the video clip for the topic of the day I would give them some of the worksheets (certain ones that I knew were on their level). They would color and discuss what was on each page. Sometimes there would be an animal to color, a crossword puzzle (that mommy helped them with), a facts sheet, or a questions and answers worksheet.
As they did their worksheets we would talk about what they learned from the video and what else they would like to learn about that goes along with that topic. They were eager to learn more each week and really loved using the program. My older son (6) could use the program by himself with ease.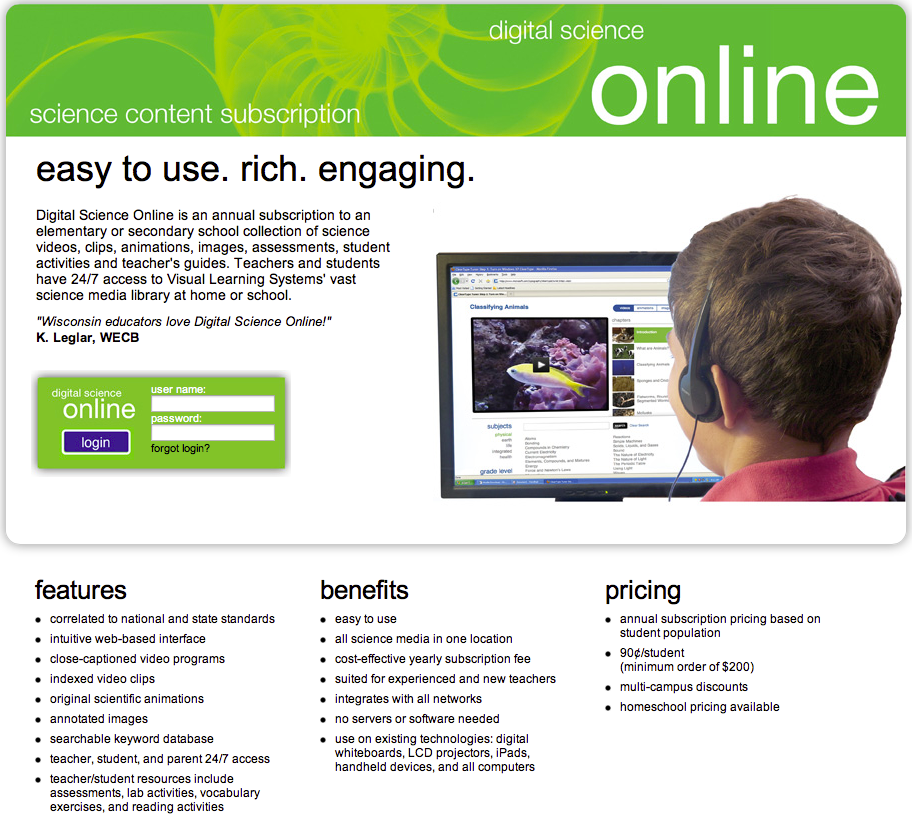 Some of the topics available to study and view are:
Physical, Earth, Life, & Health Sciences
Physical- chemical changes, exploring heat and matter, gravity, particles and matter, using electricty, etc.
Earth- changing climate, exploring landforms, investigating water, planets, sun and stars, etc.
Life- cycles in living things, migration and hibernation, plant life cycles, trees, etc.
Health- healthy habits, your body, your diet
I loved using Visual Learning Systems with my boys. However, it is correlated with Common Core Standards. If you are okay with that then this is a great program. It is well worth the investment because it can be used with more than one student. It can actually be used with a classroom full of students. Just print extras of the printables.
This program is totally digital, which is the way our world is going anyway. I loved that the videos were short and kept my children's attention. The printables were well done and there weren't too many of them to bombard the student (or the teacher). I recommend this program to a homeschool family or a public or private school teacher for their classrooms. It was easy to use and very well done.
You can find some tutorials and demos of the program HERE.
Here are more resources for Visual Learning Systems:
Facebook - http://facebook.com/visuallearningsystems
Twitter - https://twitter.com/visualearning