Doing crafts and art in my house is like breathing air. It is a necessity. My three boys (even the two year old) absolutely love to draw, paint, color, play with play dough (I make my own), and even make their own cards for special occasions for others. What can I say...we LOVE arts and crafts. Did I mention that I have all boys? Yup, boys can love doing art too!
I was chosen to receive a copy of
ARTistic Pursuits
book for preschoolers
The Way They SEE It
in exchange for a review of the product. The Way They SEE It is an art curriculum written for preschool aged children who are just learning the different styles of art. I will explain more about that below. But, first let me tell you a little about the company
ARTistic Pursuits
.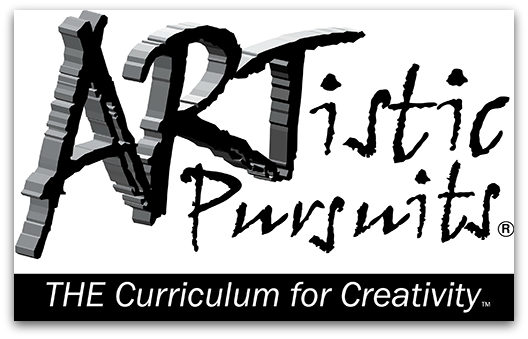 ARTistic Purstuits was developed to give the student/child a love and appreciation for art. Art comes in many different forms and can be a little intimidating to many (uh hum....me!). It gives the child confidence in the little things before moving on the bigger techniques. Each of the lessons/books are age appropriate. For instance, I was given
The Way They SEE It
because I have all young children who need a foundation in art. If you have older children there are many other resources on their website for many different ages and styles of art.
The Way They SEE It was an awesome curriculum. Well, still is. We have loved using it and plan to continue use. The curriculum covers everything from coloring with crayons (and proper crayon control), sculpting with dough, and using markers to make art. There is a list of materials you will need at the beginning of the book and also on their website. Having little ones in your home, you should already have most of the supplies such as crayons, scissors, and markers. But, you may want to invest in a whole new set of everything just for this curriculum. It's more fun that way!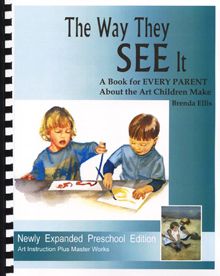 How we used The Way They SEE It:
When we first started the book I did a little research on the ARTistic Pursuits website to make sure I had all supplies needed to begin. After I was sure I had everything I needed I read the parents section at the beginning of the book to make sure I was properly using the curriculum.
We ended up using it 3 days per week for our art curriculum. Each time we used it, the lesson lasted about 10-30 minutes depending on the project for that day and if my students had any questions about the lesson.
Since I had never used an art curriculum before (usually just had them color, etc. on their own), sometimes we felt like we wanted to do more lessons in a day or week.
I would read that days lesson and show the boys the picture for that day. After going over the material we would do the project that went with that lesson. Sometimes it would be coloring a picture and sometimes it would be making impressions of pine cones or leaves.
Here are some samples of my children's work using The Way They SEE It:
I had to crop the pictures from their full view because they wrote their names on them. Sorry!! But, you can get the gist of what they look like.
What we like about The Way They SEE It:
I, personally, loved that it eased my students into the world of art. It begins with a lesson on crayons and how to properly hold them. By the end of the book, students should be able to color and draw pictures that are more than stick figures, use scissors properly, and form a scuplture using clay or dough among many other things.
My students loved that they got to do an art project or craft each day. What child doesn't love when you get out the paint set and brushes and actually help them with their artwork? My kids loved it.
The lessons were short enough and simple enough that even my 4 year old could understand them and my 2 year old say through the lessons.
The lessons are not repetitive at all. You don't just use crayons for a month and then markers. My students looked forward to learning a new skill and making something of their own.
Included in the lessons are little bits of art history as well as paintings by famous artists. The history part is interesting because I even learned a few things about some of the artists represented.
The pictures of each painting is so beautiful. They are large enough to show the beauty of each piece and to be able to see the brush strokes, etc. I liked to just flip through the book and see what was next for each lesson.
This art education program is an excellent resource for any homeschool. Since ARTistic Pursuits has designed so many choices of curriculum for all ages it would be suitable for any person at any age. I loved using this art curriculum because it gave my children the foundations they need to grow in their knowledge of art and art history. It gave them a sense of accomplishment to finish and project and to know that they actually made a masterpiece.
You can find out more by about all of the products that ARTistic Pursuits offers by visiting their webiste
HERE
. They also have a Facebook page:
https://www.facebook.com/ArtisticPursuitsInc?notif_t=page_user_activity
Please take the time to go and inform yourself about this wonderful company and their many books on art.