Finding the right reading and phonics program has been one of the biggest challenges for me. My oldest son is six and loves to "read" books. But, he struggles to learn the actual reading part of it. We have tried many other programs with little or no success. I will get into more detail about what worked better in this program later on. I was so glad to have been chosen to receive
Memoria Press
First Start Reading
for my family to use and review. I had never heard of First Start Reading, though I am familiar with
Memoria Press
. They were VERY generous to my family and gave us the whole program to use.

Memoria Press was founded in 1994 by Cheryl Lowe, a teacher and lover of Latin. She developed and wrote many of the curriculum available on the website. The curriculum on Memoria Press goes from Kindergarten all the way through high school. Since my children are all still very young we were given the First Start Reading program but there are MANY other items available on the website. Memoria Press is more of a classical approach to education (which I love). The items I received are actual, physical books.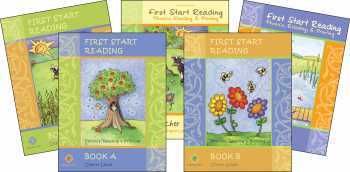 For the First Start Reading curriculum we were given the Teacher Guide and Student Books A-D. The Teacher Guide gives the parent the exact information on how to teach each days lesson. The Student Books are written out so that each book moves the student along in the lessons so they get more and more challenging. I really liked how the books were separated into more challenging lessons. This program covers manuscript printing, consonants, short and long vowels, 45 common words, and artist-drawn coloring pages that go along with each lesson.
How We Used First Start Reading:
~Since we had tried other "phonic/reading" curriculum we decided to dive right in with Book A. My son, Bear, would do at least one lesson everyday. Sometimes more if Bear was up to it. The lessons only take about 10 minutes at the most. We chose Book A because it is the first book in the program and we wanted to start at the foundation and work our way up.
~The lessons are short enough that we could really take our time and work on something that may be new or challenging to my student.
~I used the Teacher Guide to explain exactly what needed to be done each day and since it is very detailed I would utilize the Guide more for difficult lessons that Bear didn't understand. It actually helped me to be able to explain the lessons in a much easier way that Bear could understand.
~During the time of this review (and from now on) we only used First Start Reading as our reading, writing, and phonics lessons.
~We worked our way through Book A and made it to Book B. We are excited about the next two books. We did a few lessons in the other books for review purposes and found them just as delightful as the first two books.
What We Liked About First Start Reading:
~The lessons are short so the student can do a few lessons a day or just one, depending on the difficulty level.
~The lessons were easy to understand and simple enough for a student to do on his own with only guidance from the parent/teacher. For instance, Book A starts off with the letter "M" and the sound it makes. Then, the student learns the letter "A". The next lesson is learning a new word with the letter "M" and "A" in it (i.e. "AM").
~Bear learned a few new reading skills and is becoming more confident in his phonics skills.
~I absolutely love the price of the books for this program. The books are only $7.00 each for the student books and the Teacher Manual is $14.95. You really can't find many phonics/reading programs that are this great for such a low price.
~I love how the books get more challenging and start you off doing easy lessons so the student gains more confidence. It made Bear feel like he could really read already. When we would get to something more difficult he already had positive thoughts because of the previous lessons guiding him into the more difficult ones.
~The student also learns writing skills as well. Each lesson gives the student some "practice" for writing a new letter, word, or sentence.
Here is a sample of a lesson from Book A:
The reason this program worked so great for us and the reason we will only be using First Start Reading is because of the pace at which the lessons are taught, the order in which they are taught, and my child really liked doing the lessons. The lessons really focused on proper pencil grip, printing words/letters to reinforce phonics, and learning one phonogram at a time. The program uses the more traditional phonogram approach of "vowel-consonant" combined with word families instead of the "consonant-vowel blending" approach. It works better for younger minds.
My MIL is a retired reading specialist and I had her take a look at First Start Reading. Her first reaction was that she thought it was a great program. The lessons were exactly how she taught her students how to learn to read. After looking at the Teacher Guide, she really loved it. Everything is completely laid out for the teacher/parent and all of the lessons are complete.
So, all in all, First Start Reading by Memoria Press is a wonderful reading and phonics program. I highly recommend this curriculum to those who have struggling learners or are just starting out with learning phonics. I plan to use this program with all of my children from now on. I really couldn't say enough good things about Frist Start Reading. Check it out for yourself. I feel very blessed to have been on this review. This is the one area of homeschooling that we struggle with the most and now it isn't a struggle. My son loves to get out his reading books and learn new skills.
For More Info On Memoria Press and Their Products Please Visit:
Facebook:
https://www.facebook.com/memoriapress
Twitter:
https://twitter.com/MemoriaPress
Pinterest:
https://www.pinterest.com/memoriapress/
Google+:
https://plus.google.com/u/0/+Memoriapress1/posts
Instagram:
https://instagram.com/memoriapress/