Romance. It seems like it would come so naturally to a married couple who love one another. But, as most married folks know, it is a struggle. A very real struggle. Add in homeschooling several little ones (and/or big ones), careers, and the messiness of life and you've got the perfect equation for NO romance at all. In her book, The Busy Homeschool Mom's Guide To Romance (published by Real Life Press), Heidi St. John gives many tips on how to nurture your marriage through those tough homeschool years. I was given a physical copy of this book for the purpose of this review.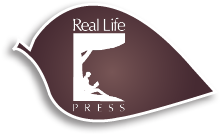 I have been following Heidi St. John on Facebook for a few years now. I have also heard her speak at my local homeschool convention. She is incredibly talented as a speaker and writer. She has written many books and bible studies as well as The Busy Homeschool Mom's Guide To Romance. She is the owner of Real Life Press. She and her husband, Jay, have been married since 1989 and have six children, all of whom have been homeschooled all the way through school. I just adore her sense of humor and her wittiness about all things related to homeschooling and raising children in a Christian home.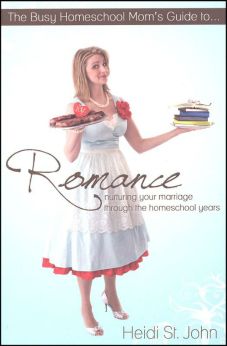 Having a solid foundation for your marriage is so important for families. If the husband-wife relationship is not flourishing the children take notice (whether you think so or not). Little eyes are watching every single move you make, listening to every word you say, and repeating these actions/words. Parents are to be Godly examples of how to treat others and live the Christian life. So, before you can have a solid foundation with your spouse, you must first have a solid relationship with God. Heidi St. John explains how having a "quiet time" with God every day changed her life. In the first chapter, we learn that in order to have a lasting relationship with our spouse we must accept that only God can fill all of our deepest needs. Expecting our spouse to do what only God can do will make for a bad marriage.
"If you want to gain insight
into your marriage, carefully
The next relationship we should look at is with ourselves. Heidi St. John talks about "That Girl". She refers to "That Girl" as someone from the past. The girl who we forgot how to be. The girl who dreams, lives in the moment, sees herself as beautiful (and not a stretch-marked, flabby mom), flirts with her husband, and is generally joyful. With the business of life and children and families, we forget how to be "That Girl" and become someone we never thought we would become. Trying to get back to the girl my husband married is something I wrestle with often. I am not the same person (and not in a good way). I am cranky all the time, in yoga pants constantly, never have time to "flirt", and am neglectful of my marriage in general. In this book, she speaks about getting out of that rut and becoming the woman God created you to be.
Homeschooling takes a toll on families. It is a huge blessing to have the freedom to homeschool but it is also hard to find time to do anything else. Homeschooling takes over everything, your life, your living room, and your heart. Putting ones husband above homeschooling is the key to getting back to "That Girl" your husband married. She is still inside your heart. But, letting go of some of the day-to-day issues can release you to become more of what you used to be to your husband.
I love the way Heidi St. John explains her feelings about her marriage, homeschooling, and her relationship with God. With so many things battling for our time and attention, it is easy to get distracted from our one, true purpose…to love and serve God and to tell others about Him. She is so real in her writing. I felt like she was sitting beside me just chatting about her life and what she has learned. She states that carving out time to just be with your husband is very important. Get to know what makes your husband tick. Get back to the basics of romance and forget all the other "fluff". Sometimes simple is better.
The choices we make affect how we act as well. If we choose to say "yes" to everything and stay completely busy all the time, our lives will be so cluttered there will be no time for romance. No time for girlfriends. No time for God.
We get to choose where we invest our time. We can choose to be hurried and busy. Or, we can choose to put the Kingdom of God first and give our children and husbands the mother and wife that they need. God's desire is for us to know Him more deeply. Giving our children and husband the best of us is a great way to serve Him better. When we are choosing to stay busy, what are we busy doing? That is a big question. Are we busy doing the wrong things? Are we serving idols instead of God? Prioritizing God, your husband, and your children lead to a more peaceful life.
I am constantly trying to compare my life with other homeschooling families. What a mistake! No two families are alike. Every homeschool family looks completely different. There many be similar styles of teaching but it's never quite the same. Comparing myself to others is a good way to be unsettled and unsatisfied with the life that God has given me. Heidi St. John writes about when she began homeschooling and the struggles she went through. She struggled with scheduling time for everything. Including time with her husband. We must live WITH our husbands, not parallel to them. We must intersect and exist…together.
In this book, I loved the section about "a cord of three strands". This cord consists of you, your husband, and God. In Ecclesiastes 4:12 it says "A cord of three strands is not quickly broken." Oh how I love that verse. Sometimes I forget about the others in my life, especially my husband. Getting back to a relationship with God is the place to start. It is the heart of all other issues.
It all comes back to having a relationship with the Living God. Put Him first and the rest will fall into place. It takes work. It isn't easy but with God anything is possible. Just as stated above, little eyes are always watching. Leaving a legacy for your children is so important. Will you leave a good legacy of a lasting marriage or will they see your marriage as a failure?
grandparents' marriage affected
me, your marriage is affecting
I truly gained so much from The Busy Mom's Guide To Romance. I loved reading this book and felt like Heidi St. John hit the nail on the head with this one. Her insight and wisdom gave me a better understanding of how to enjoy my husband more and not depend on him solely for my every need. Only God can give me the deepest desires and needs of my heart. Only God can quench the thirst for more love, joy, and peace. My husband was given to me as a companion, friend, and partner. Remembering that we (myself, my husband, and God) are in this together makes a huge difference in the relationships I have in my life. Romance is so much more than lingerie, flowers, and chocolates. It is building a lasting marriage based on the foundations that God has given to us in the bible.
I highly recommend this book to any homeschool mom who is struggling with finding balance in her life. I am struggling with this same thing and reading this book is giving me the courage and strength to do the hard things and enjoy the wonderful things. It is a great book and I loved reading every word of it.
You can find out more about Heidi St. John and her other resources by visiting: