As a homeschool family field trips are what we live for. I make sure to plan at least one per month but strive for two or three. Some of them are quick trips to our historic downtown area and some are paid trips to a museum. I have fun planning all of our adventures. My usual go-to for recording and journaling these trips is a composition notebook.
Apologia Educational Ministries
has come up with a wonderful product to take care of those field trip journaling needs. It is called the
Exploring Creation Field Trip Journal
. I was given a physical copy of this product for the purposes of this review.
I will tell you right up front, I was so excited when I was chosen for this review. I love everything that Apologia offers. We have used a few of their other products and have truly loved them all. My boys were just as excited and we couldn't wait to go on a field trip.

How We Used The Exploring Creation Field Trip Journal:
After receiving the journal in the mail I read through the front section that gives the directions on how to use this item properly. I also glanced through each section to get a feel of what we were expected to do.

I went through each section with my boys and told them about the book and how we would be using it.

We had already planned our trip to the mountains of Virginia months ago. So, we read a few books about the mountains to prepare us for the adventure. We wrote down the books we read in our journal.

We packed our journal for the road and headed to the mountains. I gave the boys each some ideas of what to look for and I asked many questions along the way.

We enjoyed our adventure and when we got home from the mountains we recorded all of our findings and favorite things in our journal. It was so much fun thinking about the trip and what we loved most.

After our first trip it was very easy to use the journal. We have been to several places since and have enjoyed journaling the things we find and love.

Since my children are so young still I did all of the writing in their journal. I only wrote what they told me to write with no prompting at all.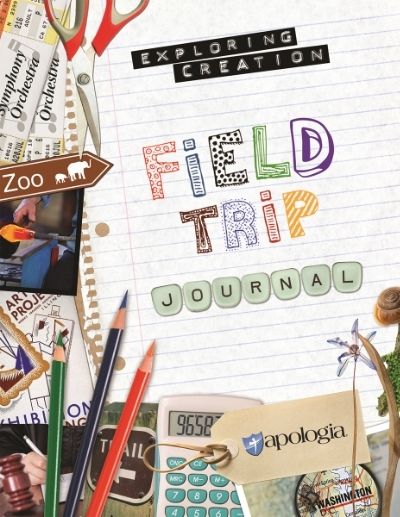 What We Liked About The Exploring Creation Field Trip Journal:
I personally loved the ease of use. Any child can use this journal with the help of an adult (for the younger ones). Older children will not need help at all.

My boys liked drawing pictures of their favorite part of their field trips. There is a section on each journaling page to draw a picture of your favorite memory. There is also a part on each page for drawing a map of the trip (my boys love pirates and these maps were great to satisfy their pirate obsession).

The journal comes with so many field trip ideas that you can't run out of places to go. The list at the beginning of the journal with the instructions.

I just loved that it is spiral bound and labeled so I can find it easily and store it easily as well.
Here is a list of the Table of Contents:
Preparing for a Field Trip
Field Trip Ideas
Places I've Explored Maps
How to Use the "Specific Trip" Pages
Field Trip Pages
How to Use "My Special Spot" Pages
My Special Spot Pages
How to Use "As I See It" Pages
As I See It Pages
As for the different sections that this journal offers:
Specific Trip Pages- Includes the date of the trip, the location of your trip, a map that you draw of the trip, a photo or drawing of your trip, emergency contact plan, "I want to see or do" section, books that you have read to prepare for the trip, a large "story of my day" section, and lastly a place to write about the things you never want to forget about your trip.
My Special Spot Pages- This part of the journal encourages your child to find a special spot for each season of the year to observe nature and wildlife. It includes a page for each season (Fall, Winter, Spring, and Summer), a place to draw a picture of your special spot, notes about footprints and other wildlife observations, the location, temperature, rainfall, and date you went to your spot.
As I See It Pages- These pages are designed to get your child's creative juices flowing. They are for drawing and creating pictures of something prompted on each page. For instance, there are pages that prompt the child to draw "predators & prey", "heavens", "reflections & shadows". There are many more and the ideas are endless. They include some blank "As I See It" pages so your child can come up with their own ideas.
I absolutely loved this book and plan on using it all summer for our trips. I also plan to purchase another one for my other children to use as well. Our final conclusion is to tell everyone about it. It is not very expensive and Apologia is a great company that teaches science through creation.
For more information about Apologia and their other products please visit:
Facebook:
https://www.facebook.com/apologiaworld/timeline
Twitter:
https://twitter.com/apologiaworld
Pinterest:
https://www.pinterest.com/apologia/
Google+:
https://plus.google.com/105053356034237782125